Basket
|

Checkout
|
Account Login
|
Join
|
Affiliates
|
Search
|
Policies
|
Contact

Where is the Spirit of America Now?
Peter Smith is on the road with his team of video-film specialists to capture "The Spirit of America" through the people and places around this wonderful country. Please take a moment to visit some of the locations he is visiting by clicking into our feature areas here in the See America Tour Section of AmericaTheBeautiful.com. We welcome your invitations to your communities so that we can share America's Passion, Pride, Patriotism and Promise. To submit your city, please click here.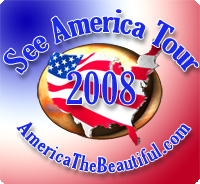 The See America Tour Film Crew is on the Road!
On June 14, 2008 the See America film crew joined the citizens and visitors of Appleton, Wisconsin for their incredible Flag Day Celebration, which is the oldest in the nation.
The focus of the See America Tour is on the heartwarming communities, filled with great people, amazing photographic sites, and messages about the love of America and all it stands for. Appleton Wisconsin is certainly one of those amazing communities and it was a priviledge to be there for the nation's oldest Flag Day celebration.
Click to read what Kathy Walsh Nufer, Staff Writer for the Appleton Post-Crescent, had to say about our visit in her article, "Parade puts Fox Cities pride, Old Glory on display" >
Download See America Tour 2008 Application and Information:
Logo and Hyperlink to Post on Your Website
You can get YOUR city or town noticed. Send this information to your City Leaders, Chamber of Commerce or Division of Tourism! You can make a difference.
There is no cost to apply OR for us to come to your community - we are looking forward to capturing magical moments and imagery of this great land.
---
About The See America Tour
AmericaTheBeautiful.com is taking a film crew across the roads of America in search of powerful stories of patriotism and love of this great land. The focus is on the heartwarming communities, filled with great people, amazing photographic sites, and messages about the love of America and all it stands for. In this stressful world of the diminishing dollar value, rising gas prices, falling housing values, and escalating international threats, many are easily distracted by the day-to-day madness of the world. Americans often overlook the beauties of this great country and the freedoms that they enjoy.
The goal at AmericaTheBeautiful.com and the See America Tour is to focus on filming the people, and communities of America amidst America's amazing landscapes. The videos will focus on America's great people in small communities and big cities who, live, work and grow this diverse culture with freedom as the core ideal. The results will be a series of videos which show that patriotism is alive and well in America.
Featured Cities Program
In addition to the See America Tour, our Featured Cities Program highlights Great Cities and Chambers of Commerce around our wonderful country for you to view and potentially assist you in the selection of your next vacation or relocation. You may use this form to suggest a Featured City.
Please note, to submit a city for the See America Tour, please use the downloadable form above.
*denotes required field

Share Your Patriotism